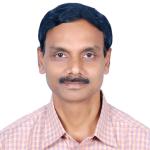 Designation
Scientist-G & Director
Email
gvmgupta[at]cmlre[dot]gov[dot]in
Education Details
Ph.D (Marine Biogeochemistry), Andhra University, Visakhapatnam, 1999
M.Sc (Marine Chemistry), Andhra University, Visakhapatnam, 1992
Area Of Specialization
Marine Biogeochemistry
Research interests
Nutrients and Carbon cycles, Greenhouse Gases, Oxygen Dynamics, Primary Production, Estuarine and Coastal, Biogeochemistry, Ecosystem Processes
Career details/position
Scientist-G, CMLRE, Cochin (Oct 2020 - till date)
Scientist-F, CMLRE, Cochin (Jul 2015 – Oct 2020)
Scientist-E, CMLRE, Cochin (Jul 2009 – Jun 2015)
Scientist-D, ICMAM, Chennai (Jul 2003 – Jun 2009)
Scientist-C, ICMAM, Chennai (Oct 1999 – June 2003)
Environmental Manager, Associated Environmental Engineers, Baroda (Oct 1998 – Sept 1999)
Senior Research Fellow, CSIR-NIO, Visakhapatnam (March 1995 – February 1998)
Junior Research Fellow, CSIR-NIO, Visakhapatnam (March 1993 – February 1995)
Research Projects
Ocean Acidification impacts along the coastal seas of India
Marine Ecosystem Dynamics of eastern Arabian Sea (MEDAS)
Monitoring and Modeling of Marine Ecosystems
Time-series studies on the biogeochemical aspects of the estuarine and coastal waters of Kochi, southwest coast of India (KoTS – Kochi Time series).
Environment and Productivity patterns along the Indian EEZ.
Ecosystem Modelling for (i) Chilka lake, Orissa; (ii) Cochin backwaters, Kerala; and (iii) Muthupet Lagoon, Tamilnadu.
Coastal Ocean Monitoring and Predictive System (COMAPS).
Preliminary assessment of impact of Tsunami in selected coastal areas of India.
Geographical Information System for Gulf of Kachchh.
Assessment of Environmental suitability of developmental activities in Gulf of Kachchh.
Critical Habitat Information System for Gulf of Khambhat, Gujarat.
Integrated Coastal and Marine Area Management Plan preparation for Gulf of Kachchh and Goa.
Awards Recognization
Certificate of Merit for outstanding contribution from Ministry of Earth Science, Govt. of India, 2017
Ph.D Supervisor : V.Sudheesh, Ph.D awarded in 2018 by Cochin University of Science and Technology, Cochin
Other Information
India Commissioner, Commission for the Conservation of Antarctic Marine Living Resources (CCAMLR)
Member, 43rd Antarctic Treaty Consultative Meeting (ATCM)
Life Member, Ocean Society of India (OSI)