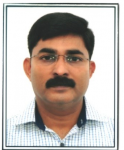 Email
sendhil[dot]r[at]cmlre[dot]gov[dot]in
Area Of Specialization
Marine Biodiversity & Mariculture
Research interests
Marine Biodiversity & Mariculture
Career details/position
Project Scientist-II in National Institute of
Ocean Technology, Ministry of Earth Sciences, Government of India, from 18th February, 2010 to 31st March, 2018
Consultant (Environment & Forests) in Planning Commission, Government of India, from 29th August, 2008 to 12th February, 2010.
Coordinator (Fisheries) in Centre for Environment and Education from 3rd October, 2005 to July, 2008.
Environmental Scientist in Land and Marine Environmental Resources Group Pvt. Ltd., Republic of Maldives from April, 2004 to March, 2005.
Research Projects
Publication Link
Awards Recognization
Other Information